Kitchens in Lymm Cheshire
High-quality Kitchen Design & Installation Services
Upgrade your Lymm Home with Beautifully-designed Fitted Kitchens
With years of experience in kitchen design and kitchen fitting, our team is well-equipped to bring the heart of your home to life with a bespoke kitchen made just the way you want it. 
At Grappenhall Kitchen Company, we work alongside experienced builders, electricians, plasters, tilers, and kitchen fitters in Cheshire who are hand-picked to create your dream kitchen. 
Every single aspect of your bespoke kitchen is designed to reflect your personality and lifestyle. It's created just for you and your needs, and with quality craftsmanship on our side, we'll install the perfect kitchen in your home in Lymm.
Take a closer look at our Bespoke Kitchen Designs
Explore how our team will design the right kitchen for you and your family by looking at our portfolio.
Not what you're looking for?
Your kitchen is completely customisable and can be altered and edited to your specifications.

Take a look at just some of the options you can customise in your Lymm kitchen design.
Why choose Grappenhall Kitchen Company for your kitchen redesign in Lymm?
We're a family-owned and run kitchen company in Cheshire specialising in designing and fitting bespoke fitted kitchens in Cheshire homes. All our kitchens are created with your needs in mind taking your lifestyle and personality into account every step of the process.
Our team of kitchen designers and expert tradespeople are here to provide you with the perfect kitchen design and installation.
Let our team start working on your Lymm kitchen renovation today.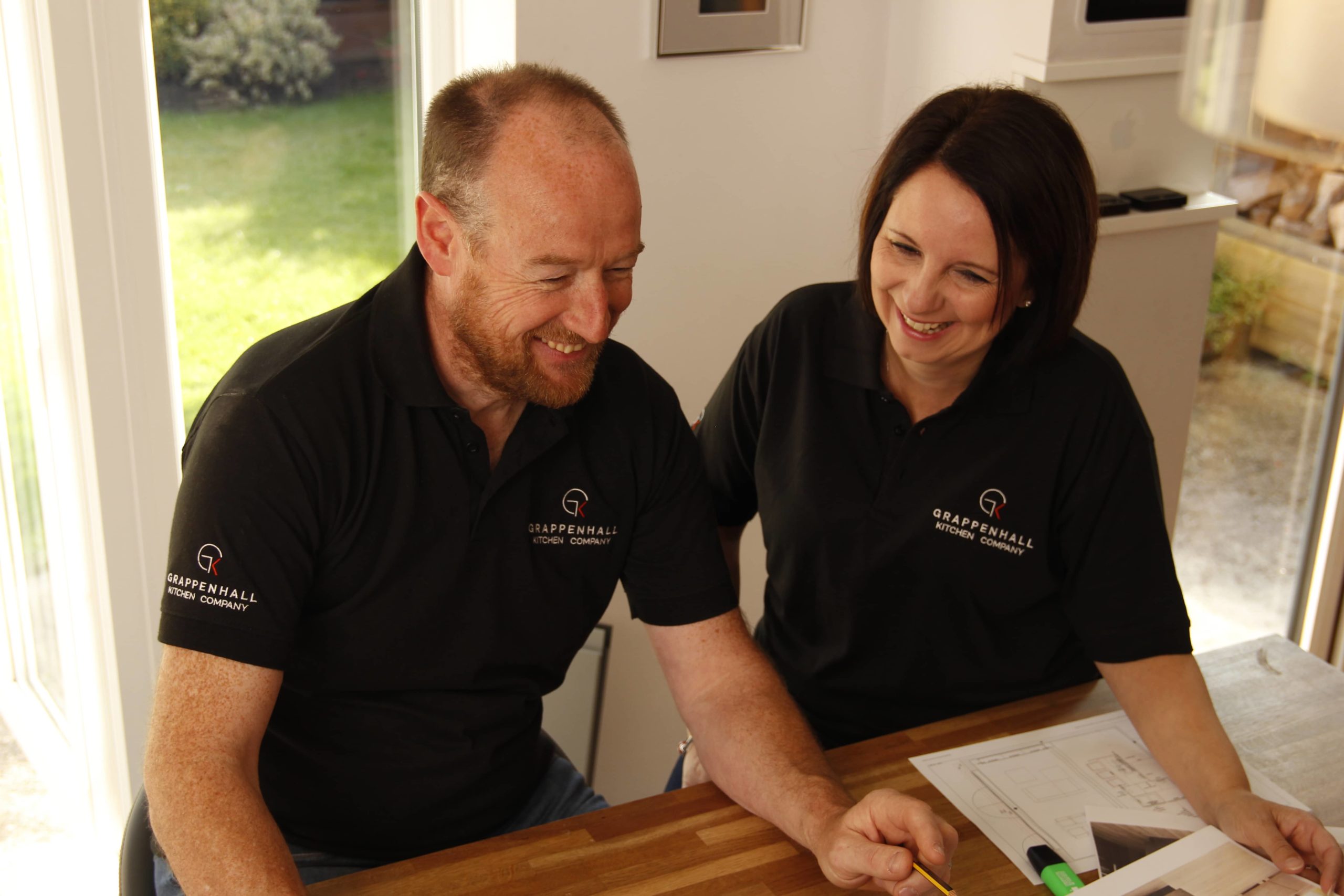 What our clients think of our Bespoke Fitted Kitchens
Absolutely thrilled with my new kitchen, thanks Neil, Carole and the whole team for a brilliant job. The work was carried out professionally, the team were efficient and very reliable. Would highly recommend this company, made the whole process a pleasant experience.
Although not a full kitchen refurb, the additional worktop and units were matched beautifully. Very happy. A lovely company, professional, friendly, excellent workmanship and attention to detail. Thank you Neil and Carole. Would definitely recommend this company.
An absolutely incredible service by a local business. We were let down by a larger company who guaranteed to offer a bespoke service and help us navigate through all the building work and kitchen installation so we decided to go for a local company…what a great decision that was and we have a lot of building work! From start to finish they were engaging, professional and took a huge amount of pressure off while dealing with multiple trades. They supplied the builder, plumber, kitchen fitters, electricians, under floor heating specialists, tillers and organised their times and dates of arrivals, we were so 'hands offs'. The outcome is the kitchen we wanted with lots of added benefits. With excellent products, outstanding management and superb customer service we cannot recommend the team enough.

Thank you Grappenhall Kitchen Company!
We're very happy with our new kitchen and would recommend Neil, Carole and their team. Neil is very knowledgeable, listened to our requirements, always quick to respond to queries and helpful throughout. Excellent workmanship, we would recommend.  
From start to finish Grappenhall Kitchens offered a fantastic service. Their attention to detail and customer service was first class. We are delighted with our new kitchen and don't believe we would have got the same outcome anywhere else. True professionals in every sense of the word. Have to mention a massive thanks to Kelly who designed the kitchen, Paul and his apprentice Tom who fitted the kitchen and Carole and Neil who worked closely with us at all times to ensure we got the kitchen of our dreams. We would highly recommend Grappenhall Kitchens. Thank you.
Thanks to Neil, Carole and the team (specifically Paul and Tom). Our kitchen is everything we'd hoped for and more. Neil was there every step of the way organising the different tradesmen who all arrived when arranged and did an excellent job. The stress was totally taken away from us. We changed our minds on a few things during the installation and this was dealt with and accommodated straight away. We would 100% recommend them for customer service and workmanship.
On time, on budget and always friendly
Your home deserves a kitchen that works for you - book in for a home design visit today or visit our Kitchen Studio in Grappenhall which is just 3 miles from Lymm.