Jefferson Mussel Traditional Kitchen Collection
Add a beautiful Jefferson kitchen to your home with our kitchen design & installation services
Jefferson Mussel Traditional Kitchen Collection
The Kitchen Stori Jefferson door is quintessentially traditional in design. With its raised solid ash frame and a veneered ash centre panel, with a defined grain painted finish, it exudes charm and sophistication.  It demonstrates transitional flair by finding its place in a modern setting. 
Shown here in painted Mussel, Jefferson is available in 30 carefully selected paints and stains that can be used in any combination to achieve just the right look for your dream kitchen.  Worktop is Dekton Bergen. 

The large multi-functional island unit with curved doors at one end, features space for seating and an integrated wine cooler.  A perfect entertaining area!   Include curved doors in your design, either on the island or at the corner of base and wall units, for a softer design approach.  A purpose-built chimney houses the range cooker.  Painted in Graphite Grey with brick style tiling, it adds drama to the calm of the Mussel carpentry.
TAKE A CLOSER LOOK AT THIS JEFFERSON MUSSEL KITCHEN DESIGN
Explore if this kitchen interior design is right for you and your family by taking a look at the detailed photography of our Jefferson Mussel Kitchen design. 

Positioning modern appliances amongst your wall and base units, such as this wine cooler, ensures that they become an integral part of your kitchen design.  A Belfast sink seamlessly blends traditional with modern.  The brick style tiling continues behind the sink, running the full length of the units with ambient lighting below the wall units.  The tiled splashbacks complement the open brick fireplace with log burner and shows the diverse appeal of Jefferson. 

A perfectly appointed central island unit provides much need extra counter and drawer space for cooking and entertaining.  The room is finished with dark oak flooring.

From kitchen cabinets and worktops to the latest modern appliances, we will help you to find the perfect kitchen design for your home.
Make a confident choice for your space with our wide selection of doors
Click the button below to find the perfect door style and colour that complements your unique taste and enhances your home.
Not what you're looking for?
Why choose Grappenhall Kitchen Company for your kitchen interior design?
We're a family-owned and run business specialising in designing and fitting custom designer kitchens that are built with your needs in mind.

Our team works closely with experienced tradespeople, including builders, electricians, tilers, and kitchen fitters, who work alongside us to provide you with the perfect kitchen design and installation.

If you want a bespoke kitchen designed for your lifestyle, let our team start working on your kitchen renovation today.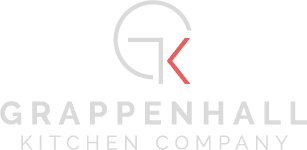 What our clients think of our fitted kitchens...
Absolutely thrilled with my new kitchen, thanks Neil, Carole and the whole team for a brilliant job. The work was carried out professionally, the team were efficient and very reliable. Would highly recommend this company, made the whole process a pleasant experience.
Although not a full kitchen refurb, the additional worktop and units were matched beautifully. Very happy. A lovely company, professional, friendly, excellent workmanship and attention to detail. Thank you Neil and Carole. Would definitely recommend this company.
An absolutely incredible service by a local business. We were let down by a larger company who guaranteed to offer a bespoke service and help us navigate through all the building work and kitchen installation so we decided to go for a local company…what a great decision that was and we have a lot of building work! From start to finish they were engaging, professional and took a huge amount of pressure off while dealing with multiple trades. They supplied the builder, plumber, kitchen fitters, electricians, under floor heating specialists, tillers and organised their times and dates of arrivals, we were so 'hands offs'. The outcome is the kitchen we wanted with lots of added benefits. With excellent products, outstanding management and superb customer service we cannot recommend the team enough.

Thank you Grappenhall Kitchen Company!
We're very happy with our new kitchen and would recommend Neil, Carole and their team. Neil is very knowledgeable, listened to our requirements, always quick to respond to queries and helpful throughout. Excellent workmanship, we would recommend.  
From start to finish Grappenhall Kitchens offered a fantastic service. Their attention to detail and customer service was first class. We are delighted with our new kitchen and don't believe we would have got the same outcome anywhere else. True professionals in every sense of the word. Have to mention a massive thanks to Kelly who designed the kitchen, Paul and his apprentice Tom who fitted the kitchen and Carole and Neil who worked closely with us at all times to ensure we got the kitchen of our dreams. We would highly recommend Grappenhall Kitchens. Thank you.
Thanks to Neil, Carole and the team (specifically Paul and Tom). Our kitchen is everything we'd hoped for and more. Neil was there every step of the way organising the different tradesmen who all arrived when arranged and did an excellent job. The stress was totally taken away from us. We changed our minds on a few things during the installation and this was dealt with and accommodated straight away. We would 100% recommend them for customer service and workmanship.
On time, on budget and always friendly
You deserve a kitchen that works for you - we'll build a bespoke kitchen designed for your home and lifestyle.